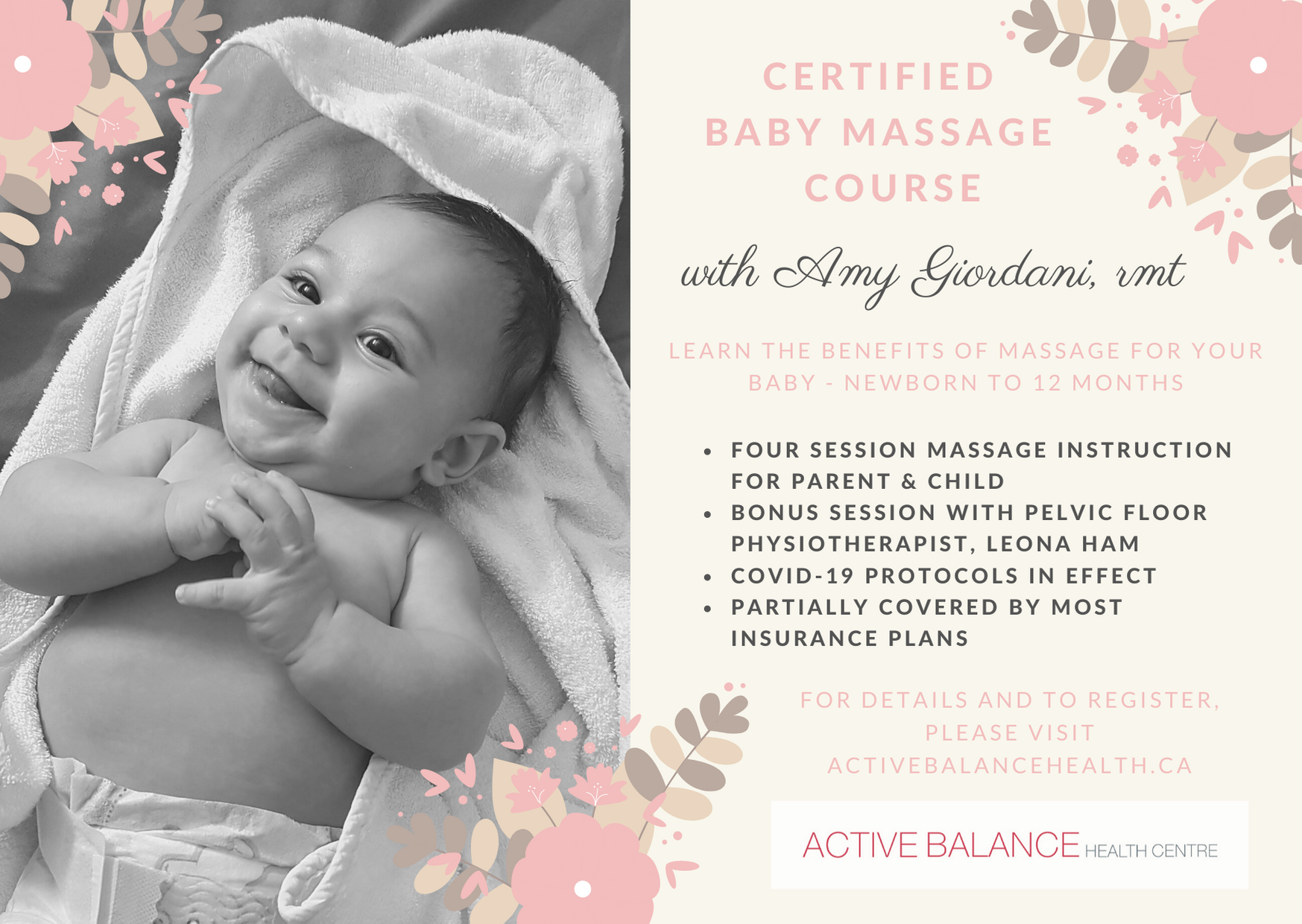 Certified Baby Massage Course – dates ongoing

We are very excited to have Amy Giordani, RMT, offering her Baby Massage Course at Active Balance Health Centre.
Baby massage promotes bonding between parent and child and creates relaxation which positively affects your everyday…something all parents of new little ones can appreciate!  You can do baby massage anytime but babies love it between feedings and at night, before bed.
The certification is 4 massage sessions with instructor, Amy Giordani + 1 pelvic floor session with Leona Ham, Pelvic Floor Physiotherapist.  Leona is Okotoks' most referred to physiotherapist when it come to all sorts of things going on "down there" post-baby.
You'll need an edible oil (we recommend coconut), a snuggly blanket and yoga mat.  Don't forget cloths for cleaning up "accidents" and a fresh diaper.
The group is limited to 4 pairs (one parent/one baby) and physically distanced with all current AHS protocols in effect.  Grab your friends from your parenting classes, FB groups, neighbours or any other connections with babies up to 12 months.
DATE: The course start days are flexible.  Round up 3 friends and babies and come enjoy learning together.  As soon as we have 4 pairs, we will set a date.  You will receive a certificate when complete.
Tentative date and time for initial session:  To book for the current session, please click HERE.
LOCATION: Active Balance Health Centre – Balance Retreat Studio
COST: $208 (inc. gst).  Massage sessions are paid for over 4 weeks and can be direct billed to your private insurance plan.  Please make sure your baby has been added to your benefit plan.  If you're already a current physio patient of Leona, you can claim your pelvic floor session under benefits.
REGISTRATION:  Please email us at rmt@activebalancehealth.ca with your contact information.