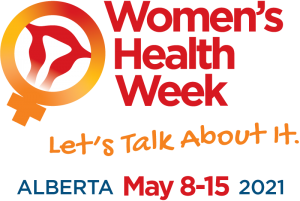 Women's Health Week is a province wide initiative of The Women's Health Coalition of Alberta. Anchored by Mother's Day, the week is focused on raising awareness, increased understanding and engagement about women's experiences in sexual, reproductive and menstrual health.
The Women's Health Coalition is committed to creating a movement to speak openly, learn and engage with purpose to address menstrual reproductive and sexual health for life.
Fees for the Events:
We encourage all participants to please consider a donation to the Rowan House in lieu of a registration fee for our events.  These donations can be done directly through the
Rowan House
or also when you purchase your Eventbrite ticket.
We encourage you to visit The Women's Health Coalition's website for more information and to see all the exciting events happening during May 8-15.

The Women's Health Coalition will take a leading role in engaging and informing community stakeholders, healthcare professionals, industry and government to challenge traditional thinking, address gender bias, and improve health outcomes for women facing menstrual, reproductive and sexual health challenges.
The Women's Health Coalition is a network of:
Women who have faced health challenges
Professionals who care for women
People who care about women and women's health
Businesses and Associations committed to women's health
Please visit The WHC website to learn more about this vital Alberta organization.